Everyone has their own potential for success, but it's helpful to know that there's a dedicated team of professionals, who are part of the REED Group of recruitment companies, who have all angles covered – from making a CV sparkle and pinpointing that ideal job ad, to approaching employers on learners' behalf to give Barnet and Southgate students preferential access to local jobs.
In the 2014/15 academic year the College is greatly expanding timetabled employability sessions to 126 hours a year for a full time student.
We think that there's no substitute for real hands-on experience and know that those students who work during their studies are one step ahead of the competition at the end of their course.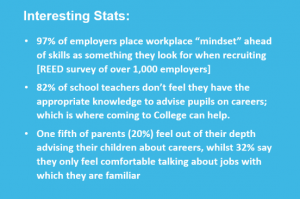 Employment Zone
The College's REED NCFE 'Employment Zone' is based at the Wood Street Campus in High Barnet, and we're proud to be the only College in London to host such an initiative.
No appointment is required so students can pop in at any time for exclusive access to local vacancies and jobs that are rarely advertised. They also receive tailored training in the skills they will need specifically for these jobs, to help ensure maximum employability once they have completed their studies at College.
REED NCFE's has learners' short term and long term interests in mind. Whilst at College, many learners use the service to secure work experience to complement their studies, to get help to find part time jobs to support their studies, and to help secure the right full time jobs or apprenticeship roles after College.
The College regularly gets part-time roles for students with employers like Lord's Cricket Ground; Buckingham Palace, Ford Motors, Sports Direct and Tesco.
_
The REED NCFE Employment Zone at Barnet and Southgate College

Visit us in G Block at the front of the Wood Street Campus
Call 020 8275 7674

Email reed@barnetsouthgate.ac.uk for further information.