Highly skilled Dry Liners are currently in high demand in the region and this partnership aims to provide training that fast tracks applicants into the industry through a short introductory course leading onto an Apprenticeship with the specialist dry lining company – Conneely.
Candidates had to be over 19 years old and unemployed with an excellent work ethic and strong interest in a practical trade. Screening sessions took place last week; chosen candidates will now be trained for two weeks at the College's Colindale Campus, leading to full time employment as an Apprentice Dry Liner with Conneely in February.
The first fortnight proved to be a great success, with 100% of learners either progressing on to an apprenticeship or into employment.
This 2 week course includes:
Level 1 Award in Personal Development
Level 1 Award in Health and Safety for Construction
CSCS card
Basic Dry Lining Practical Workshop
An Introduction to Conneely on-site
For over 30 years the Conneely Group has successfully worked in partnership with its clients, staff, trades and suppliers to build a strong reputation of efficiency, quality and reliability. They're one of the largest specialist subcontractors in the supply and installation of interior finishes and exterior facades, with a turnover in excess of £45 million and an 800 strong workforce. Conneely Group has also been recognised by the London Stock Exchange as a 'Company to Inspire Britain' for the third time in a row. To be recognised the business had to demonstrate not only its positive growth and employment creation but also to 'consistently outperform their sector peers'.
Here's what two of the trainees said about the course:
Aaron De Nobrega
"I am 20 years old and live in High Barnet. I was referred to the dry lining screening day at the Colindale Campus by Job Centre Plus. I really wanted to get into construction jobs, and I'd heard of Conneely so that what's attracted me to turn up.
The Job Centre in Hendon told me it was a 2 week course based in Barnet and Southgate College, which appealed to me as I'm fairly local. And then I would be guaranteed an interview with Conneely at the end of it to apply for an 18 month dry lining apprenticeship with them. For me, the highlight of the 2 weeks is the health and safety training I'm getting and the fact that I am sitting an exam and potentially getting my CSCS card. This is essential if I want to work in construction and on building sites.
Prior to this, to be honest, I was just sitting on my sofa and not really doing anything, so my family are really happy as I'm actually getting out of the house and doing something constructive, which will I hope lead to a full time job and apprenticeship with a large company. I'm proud of myself as well as I'm finally doing something."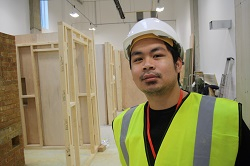 Mark Abrigo
"I'm 25 years old and I'm from Hendon. I signed up for the dry lining screening day at the Job Centre in Hendon. I've actually already got a degree in mechanical engineering but I was still looking for a job, which I was struggling with as I didn't have any practical experience. I'm fully prepared to work my way up in construction and that's what's good about an apprenticeship as I'll be working full time, earning a wage and training at the same time, it's the practical experience that I was really lacking.
My goal is to get up to a senior full time position, a manager with Conneely or another organisation, I know my degree will come in useful eventually. I've really enjoyed the 2 week course. Dry lining is very good and a growing area to be trained in, it is quite an intensive course but everyone is very friendly and I really like the modern facilities at Colindale Campus.
When I joined and was accepted at the screening day, Conneely told me that I didn't need any prior experience, as we're learning skills during the 2 weeks, skills that they're specifically looking for and it leads to a guaranteed interview with them at the end, so hopefully it's all positive and it will result in me getting a full time job with them. I'm happy to do an 18 month apprenticeship as it will compliment my degree with practical work."
Michael Cockerton, Finance Director of Conneely said:
'The Conneely Group is delighted to be collaborating with BSC to provide much needed apprentices to the dry lining industry. We are confident this relationship can develop over many years to give a consistent stream of quality candidates that will go on to make a positive contribution to our industry.'
Pictured above, from left to right: Mark Hoey (Conneely), Michael Cockerton (Conneely) and David Byrne (Principal)
This course is supported by CITB - the Industry Training Board and a partner in the Sector Skills Council for the construction industry in England, Scotland and Wales.